VUELVE A ESCUCHARLO
Playlist del especial Nochebuena de Onda Cero con José Luis Salas
Si te gustó la selección musical de José Luis Salas para el especial de Nochebuena, consulta aquí la playlist con todas las canciones del programa.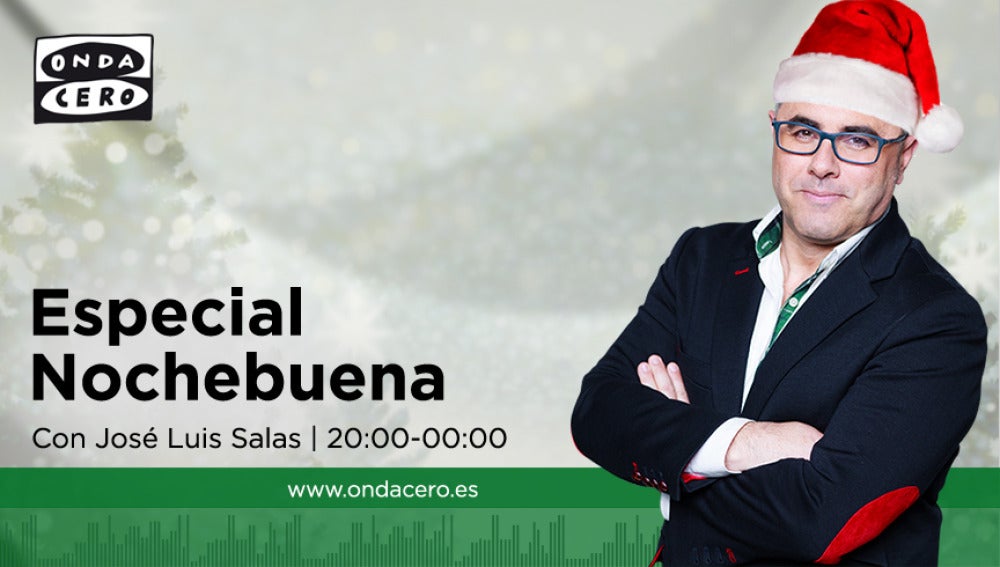 PRIMERA HORA:
Burning Love / Elvis Presley / If I Can Dream: Elvis Presley with the Royal
Philharmonic Orchestra
The Way You Look Tonight / Frank Sinatra / Nothing But The Best
Brand New Day / Bryan Adams / Get Up
Stolen Car / Sting & Myl¨ne Farmer / Stolen Car
Already Gone / Wilson Phillips / California
Coming Up / John Pizzarelli / Midnight McCartney Easy
Don't Stop Til You Get Enough / Anthony Strong / On a Clear Day
More / Matteo Brancaleoni
Angel City, California / Vintage Trouble / 1 Hopeful Rd.
He Perdido El Swing / Dry Martina / Momento Perfecto
Luck Be A Lady / Frank Sinatra / Nothing But The Best
Peg / Donny Osmond / The Soundtrack Of My Life
My Baby Just Cares for Me / Usher / Nina Revisited A Tribute to Nina Simone
Il Mio Regno / Luigi Tenco & Gianfranco Reverberi / The Man From U.N.C.L.E.
Original Motion Picture Soundtrack
Out In the Street / Bruce Springsteen / The River Tour, Tempe 1980
Raindrops Keep Falling On
My Head (feat. Ziggy Marley) / Dionne Warwick
SEGUNDA HORA
Harvest For The World / The Power Station / The Power Station (2005 Remastered)
Water Under The Bridge / Adele / 25
Fly Me To The Moon (In Other Words) / Frank Sinatra / Nothing But The Best
I'm Leaving You / Electric Light Orchestra / Jeff Lynne's ELO - Alone in the
Universe
Where I Am Now / Don Henley / Cass County (Deluxe Edition) Country Rock
Beyond The Sea / Bobby Darin
Forbidden Nights / Darlene Love / Introducing Darlene Love
The Sound Of Music (Oscar 2015 Medley) / Lady GaGa / Oscar 2015
Grace Kelly Orchestra Version / Mika / L'Orchestre Symphonique de Montreal
I Wont Dance (Duet With Michael Jane Monheit / Taking A Chance On Love Jazz
Nothing But The Best / Frank Sinatra / Nothing But The Best
Level 42 Medley (Live Orchestra) / Mark King & Orchestra / Night Of The Proms
Sin Documentos / Bunbury & Andres Calamaro / Hijos del Pueblo
Say You, Say Me / Lionel Richie With Rasmus Seebach
TERCERA HORA
Stand By Me / Joseph Leo Bwarie / Nothing But Love
Tumbling Dice / The Rolling Stones / Forty Licks
Mr. Success / Frank Sinatra / Eee - Oo Eleven
A Little Piece Of My Life / Mario Biondi / Change Of Scenes
Star Wars Medley / Pentatonix & Orquestra / A.M.As Nov 2015
Congregation / Foo Fighters / Sonic Highways
Parole, Parole / Raffaela Chacón. / Entre Damas
El encuentro / Illya Kuryaki And The Valderramas / Chances (2012)
We Belong / Def Leppard / Def Leppard
A Veces Llegan Cartas / Raphael / Los Nos. 1 Del Pop Español
Never Can Say Goodbye / Solomones / Soul, Love & Dance
You Make Me Feel So Young / Frank Sinatra / Eee - Oo Eleven
Fire / AMA
When We Were Young / Adele / Live at The Radio City Music Hall 17 Nov 2015
What a Wonderful World / Sam Cooke / Love and Let Love
El Fuego y El Amor / La Union / Todo Exitos
CUARTA HORA:
Paris sera toujours Paris / Zaz / Paris Pop
People Have The Power (Live) / U2 & Patti Smith / Paris LIVE 6 Dec 2015
If I Ever Lose My Faith in You / Chris Botti fet Sting / Live With The Boston Pops
Orchestra
I Want You (feat. After 7) / Babyface / Return Of The Tender Lover
I Get A Kick Out Of You / Frank Sinatra / My Way: The Best Of Frank Sinatra
Center Of Gravity / Franco Battiato & Mika / Le Nostre Anime
Piensa en Positivo / Fangoria / Cuatricromía
Hey Jude / Pink Turtle / Back again
Mercy Mercy Me / Graig David
Come Fly With Me / Frank Sinatra / All The Best
Somebody To Love / Queen & Adam Lambert / Rock in Rio 2015
I´l Never Fall In Love / Sheryl Crow & Lyle Lovet / In Performance at the White
House 2014
The Girl From Ipanema / Amy Winehouse / Lioness: Hidden Treasures
A Head Full Of Dreams / Coldplay / A Head Full Of Dreams
Let It Rain / Eric Clapton / Slowhand At 70